Would You Agree To Have Your Post Mortem Screened On Live TV?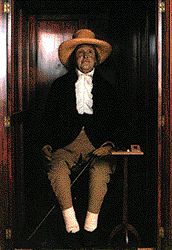 Here's a picture of Jeremy Bentham's body - he was the philosopher most associated with the ethical principle of 'utilitarianism'.
In line with his philosophy, he wanted his body to be of some use after his death, so he had it stuffed, mounted in a wooden case and put on display at University College London.

As an atheist, I would have no objection to my body being dissected, particularly for the benefit of science, even though I have heard the rumours about what happens to body parts when medical students get hold of them!

I cannot see what harm it does to have a Post Mortem displayed live on TV for educational purposes, where there is full consent from surviving relatives. In my view, the more people understand about how their bodies work, the more likely they are to look after them.

I'd be interested in what other people feel about this issue.